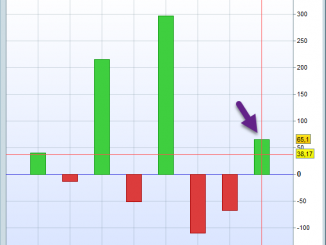 Let's have a look at last month results (october 2021) for the algorithm as I did for the previous months. This month is a bit special because the DAX Midday-Trend algo version 2 has been released and I switch the version on the live account where the algorithm is running on october the 18th.
However I have been able the compare the results between version 1 and 2 after october the 18th and luckily the results are the same.
1. October 2021 live results
After adding the v1 results until october the 17th to the v2 results starting from october the 18h, the trading algorithm made +65 points profits on the live accounts this month.
I didn't notice any difference between the backtest results and the live account this month.
I noticed that the version 1 took one more (profitable) trade on october the 15th. This trade didn't trigger on version 2 because the version 2 is a bit more selective with the trades to improve the overall results. That was expected and there's no bug there.
Additionally, I noticed from the backtests that the v2 took one more trade in September this time. This made a difference for september because the month was profitable with +89 points vs the v1 that lost 75 points. It's a big difference and it's interesting to notice that we don't have to wait for years to really see the improvements between the v1 and v2. And if you didn't update your algo version yet, you should really do it.
2. Equity curve review
Last month, I told you that we shifted a bit below the moving average, that it happened several times during the last years (like in june 2021, sept 2019 and dec 2018) and every time the algo started a new uptrend immediately after these drawdowns.
This is what happened this month too, the equity curve came back above the moving average quickly and is now inline with it. With the dax starting to get out from its big ranging period, let's hope we will have some volatility coming in November to go above the moving average again.
Here is the zoom on october 2021 where you can see it better:
Conclusion
October was not a big profitable month but it was profitable, and I'm confident that we will have bigger profitable months coming because it looks like the dax wants to go out from its ranging period that started in April 2021, and also because we now have the DAX Midday-Trend version 2 that has much better results over the long run.