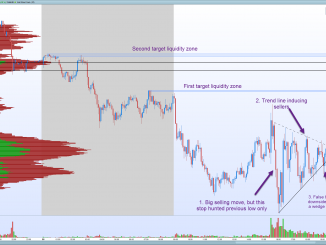 Instrument: Dow Jones
Date: 10.07.2021
1. Wedge sellers trap
I took a pretty nice buy yesterday (october the 6th 2021) using a seller trap. Here is what I saw:
You had:
a big and fast selling move, its purpose was to stop hunt the previous low and clear all the previous buyers
then a selling trend line has been created to induce the retracement sellers that saw this big down move initially
but we could see a buying trend line forming too. There was a point where it was difficult to tell the direction because you had a buying trend line too. But when they broke the wedge down to trap sellers and then went up again aggressively, you had a buy signal at the down trend line break.
I must admit this buy is not the easiest one for beginners because of the wedge. But looking at the bigger picture on daily, the dow made a major dip and support zone + a major stop hunt low, the buy side had more chance to happen.
You had two easy zone to target for taking profit, and even a third one for good trade holders. How do I know that? the previous ranging zones where you had double tops or lower highs are often used by retail traders to place their stop losses orders. These are easy targets for market makers.
2. Classic retracement trend line sellers trap
There was another sellers trap during asian session.
This one was a classic trend line + fake horizontal "support becoming resistance" zone to induce some sellers.
This is a smaller one in terms of expected profit points but still a quick and easy 60 points by entering at the trendline break and by targeting the liquidity at previous high.
Conclusion
I found it interesting to explain these 2 traps to show the difference on the profit expectation between the two traps:
The first trap triggered on a trend reversal between 1PM and 1:30PM EST time, an important hour during the US session when the market is moving usually, with some first liquidity zones to target at +200 and +300 points from the entry point. You could expect a lot from this move.
The second one occured during an asian session retracement, then it's obvious that the hour alone is not a good hour for a big move, the trend reversal is more risky but more lucrative, and after the big up move from yesterday you can't expect another big up move immediately.

I hope you learned something. As usual, I will create a topic on Telegram for this article, don't hesitate to comment if you have any question.
Happy trading!