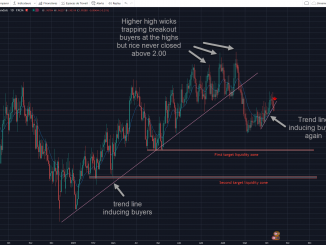 Instrument: GBPNZD
Date: 10.12.2021
I have sold GBPNZD this morning for a long term trade using market structure analysis.
It's pretty much the same trapping patterns that I use for scalping, I think you will recognize all the usual ingredients.
1. Daily chart structure analysis
I think the short side is the real smart money move because they trapped buyers. You can see it at several places on this daily chart, but here are 3 obvious traps:
You had an obvious major up trend line running from the beginning of the year (2021). This is inducing buyers.
Look what happened at the top around 2.00 key level: they printed higher high wicks. It is a classic pattern to induce buyers too. I didn't talk about this one a lot yet on this site but you can easily understand that this induced breakout buyers on lower timeframes.
We have another micro retracement up trend line that started in september.
2. Why entering today and what are the targets?
I missed the first major trend line break, but today it looks like we have something special, a second chance to enter because we had a second obvious up trend line inducing buyers, and today is special because we could say that both trend line have been broken.
Regarding the targets: price could go down to the low of the year around 1.86000, but I like to minimize the risk always, and will aim for easier targets. My first target will be around 1.92000 and the second around 1.89000.
These are the easiest previous buying zones where the liquidity should be, especially the 1.92000 because it made a triple bottom and it's a previous horizontal resistance zone that turn support. You don't need any magic indicator to tell that there must be some buyers stop loss orders at this place.
Happing trading, stay safe!
PS : this is not a financial advice, it's a technical analysis for educational purpose only. You are solely responsible for any position taken on the financial markets.