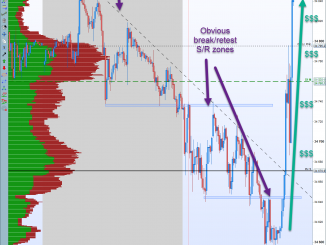 Instrument: Dow Jones
Date: 09.24.2021
I just called and followed a beautiful sellers trap on the Dow Jones (don't forget to subscribe to our Telegram channel to get learn this and get the analysis before the fact).
Why is it "beautiful"?
I could have say "perfect" too because this trap was really obvious, that was an easy 200+ points move in 30 minutes.
You have an perfect down trend line with a lot of touches
You have at least two obvious support zones that became resistance
At the bottom, you have the price ranging like it couldn't go lower before NY open
Happy trading!