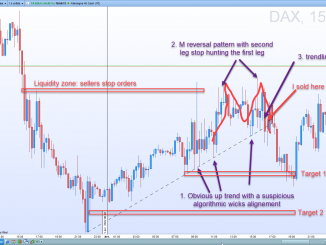 Date : 04.01.2022
Instrument : Dax CFD
I took a SELL intraday trade last friday using one of my favorite setup. Nothing new as I already explained it a lot in some others articles: a trend line trap with a final push, and then a quick reversal.
1. The M15 buyers trap
As you can see on the chart below, you had a buyers trend on friday morning, and then some kind of accumulation during the afternoon. This trapped a lot of buyers that bought all over the day thinking that this daily up trend will continue.
But you have some usual clues here telling you that the up trend may actually reverse:
the up trend is too obvious: look at the bottom wicks forming the up trend line, the alignment is almost perfect. This is algorithmic for sure.
After creating a first high hitting a previous sellers liquidity zone, a second high has been created, forming a M pattern (classic reversal pattern). The price went slightly higher than the first leg and has been rejected. It's important because you have a higher reversal probability with this configuration.
You now have a reversal trading idea but no confirmation yet. When the price breaks the up trend line, you have a confirmation, this is where I opened my short position and added another position when price retraced up a bit.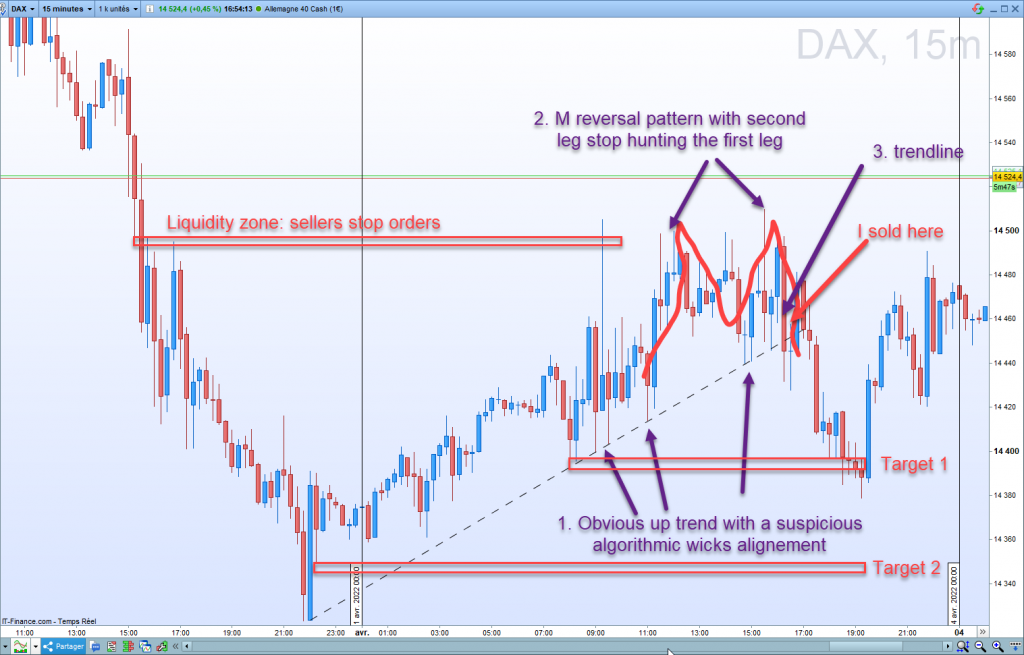 I had two obvious liquidity zones as target 1 and 2. Target 1 has been filled but it didn't go to target 2.

How do i find the liquidity zones?
I explained it already but once again here is how I find my target zones: if you were the (trapped) buyer from this up trend, where would you place your stop loss order?
Answer: below the wick forming a nice zone because you fell like there was a rejection there or this is where the uptrend will be invalidated (Target 1 is a good example), or even below a double bottom wick where you feel like there a nice support zone (Target 2 is a good example). But all this thinking is common retail stuff that is useless and dangerous, these are traps for big institutions to take stop loss orders easily.
This is why the common retail traders stop loss orders zones are my target zones actually. You have to follow the big money to win in this game over the long run, not the retail traders propaganda.
2. Target 2 precision on the next trading day
Now let's look at the next trading day (today at the time I'm writing this article actually).
They initiated an up trend in the morning again, ending it with a more aggressive push up to induce more buyers, and then the London open not only broke the trend line but also produced a giant M15 candle: 170 points in less than 15 min.
If you understood the previous analysis, you could have taken this one too at the trend line break.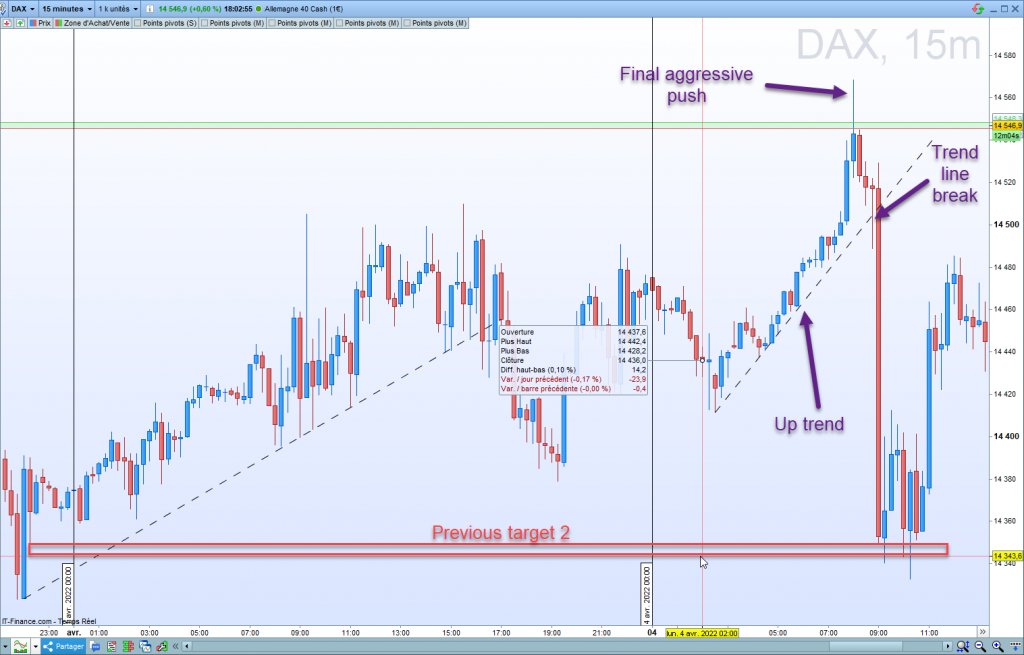 And moreover, you had your target in mind already because we still had our target 2 from yesterday that was still clean. Look at the precision, this candle hit the target 2 zone perfectly and took all buyers stop very quickly.
By the way this move was so fast (+ a W reversal pattern at the bottom) that you can tell it was a stop hunt from the zone and you can anticipate that a bigger up move is coming next. But sshhhh don't tell anyone…
Happy trading, see you!